Healthy Office Lunch Ideas
DISCLAIMER
This blog does not intend to provide diagnosis... Read More

This blog does not intend to provide diagnosis, treatment, or medical advice. Read more. The content provided on this blog is for informational purposes only. Please consult with a physician or other healthcare professional regarding any medical or health-related diagnosis or treatment options. Information on this blog should not be considered as a substitute for advice from a healthcare professional. The claims made about specific products throughout this blog are not approved to diagnose, treat, cure, or prevent disease.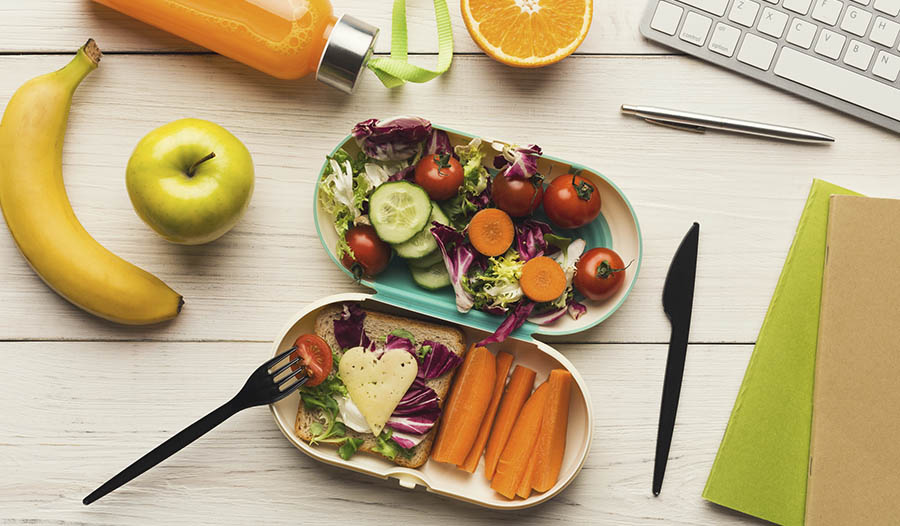 By Jessica Levinson MS, RDN, CDN
When the clock strikes noon at your office, do you run out the door to the closest deli or whip out your reusable container filled with a homemade sandwich or leftovers from the night before? If you opt for the former, you may be eating away at your hard-earned savings and you're likely consuming more calories, fat, sodium, and added sugar than you would with a homemade meal.
Packing a healthy office lunch takes a little planning and forethought to ensure you don't end up with a soggy tuna sandwich or get bored of the same two or three options every week, but it can be done. Depending on your schedule, it may make sense for you to pack lunch the night before, the morning of, or if your office has a kitchen area you may even be able to assemble lunch on the job.
Components of A Healthy Office Lunch
Breakfast may be the most important meal of the day to jumpstart your metabolism, but a balanced lunch is what will give you the energy to get through the day. The three most important components of a healthy lunch are lean protein, complex carbohydrates and healthy fat. This trio provides you with the building blocks of a satiating lunch that won't leave you falling asleep at your desk.
Whether you're having a salad or sandwich for lunch or filling a bento box with a variety of ingredients, make sure you have the following:
Lean protein

:

Canned fish

, grilled chicken, hard-boiled eggs, baked tofu,

nut butter

,

beans

/legumes, low-fat dairy

Grains or starchy vegetables

: Whole grain bread/wraps,

quinoa

,

brown rice

,

pasta

,

beans

, potatoes, sweet potatoes, corn, peas

Non-starchy vegetables

: Leafy greens, cucumbers, carrots, beets, broccoli, tomatoes, onions

Healthy fats

: Avocado,

nuts

,

olive oil

,

chia seeds

,

hemp hearts
As you plan your lunches for the workweek, keep in mind things you want to limit. Refined carbs like white bread digest quickly, which can leave you feeling hungry within an hour of eating. It's best to avoid heavy food that will make you feel sluggish like a bowl of pasta, sandwich subs or a cheeseburger and fries. Skip the bag of chips, candy bars and sugary drinks, none of which provide fuel for the afternoon. If you need something extra, stick with fresh fruit instead.
6 Simple, Healthy Lunches
Here are a few easy and healthy office lunch ideas that can be made in advance or when your belly rumbles at lunchtime.
Greek grain salad
Use boiling water or a microwave to cook quinoa, brown rice or whole grain combinations, then toss with chopped cucumbers, tomatoes, olives, feta cheese and balsamic vinaigrette. Add leftover grilled or rotisserie chicken or a can of salmon to boost the protein content.
Soup and sandwich
Boxed soups are easy and convenient to bring to work (assuming you have a microwave on hand). Pair with an easy peanut butter sandwich, fruit, and some veggies for a balanced meal.
Tuna wrap
Mash canned tuna with olive oil- or avocado oil-based mayonnaise, dried cranberries and diced apples. Spread on a wrap or tortilla, roll up, and cut in half or in pinwheels. Have with a side salad or raw vegetables.
Avocado toast
Top whole grain bread with sliced or mashed avocados and salt and pepper. Get creative with toppings depending on what you have on hand and taste preferences. Some ideas to try:
Tomatoes and feta cheese

Smoked salmon and everything bagel seasoning

Sliced hard-boiled eggs and

hemp seeds

Sliced peaches and balsamic glaze
Leftovers
Double your dinner recipe the night before so you have enough to bring to work the next day. Stews and soups are always better the next day, cooked salmon is just as delish cold or at room temperature, and most casseroles warm up well in the microwave.
Lunch-club potluck
Don't miss out on the camaraderie of your lunch break and help your office mates save money and eat healthier too. Plan a weekly lunch-club in which everyone brings one item for the lunch spread.
Whether or not you bring lunch from home, it's always a good idea to have some shelf-stable foods in your desk drawer for when those hunger pangs strike. Nuts and seeds, dried fruit, beef jerky and meat snacks, soup cups and whole grain crackers are all good options. Bring whole fruits like apples, bananas, and pears, pre-cut fruit from home and sliced veggies to round out your meals.