4 Consequences of More Screen Time + What To Do About It
DISCLAIMER
This blog does not intend to provide diagnosis... Read More

This blog does not intend to provide diagnosis, treatment, or medical advice. Read more. The content provided on this blog is for informational purposes only. Please consult with a physician or other healthcare professional regarding any medical or health-related diagnosis or treatment options. Information on this blog should not be considered as a substitute for advice from a healthcare professional. The claims made about specific products throughout this blog are not approved to diagnose, treat, cure, or prevent disease.
In this article: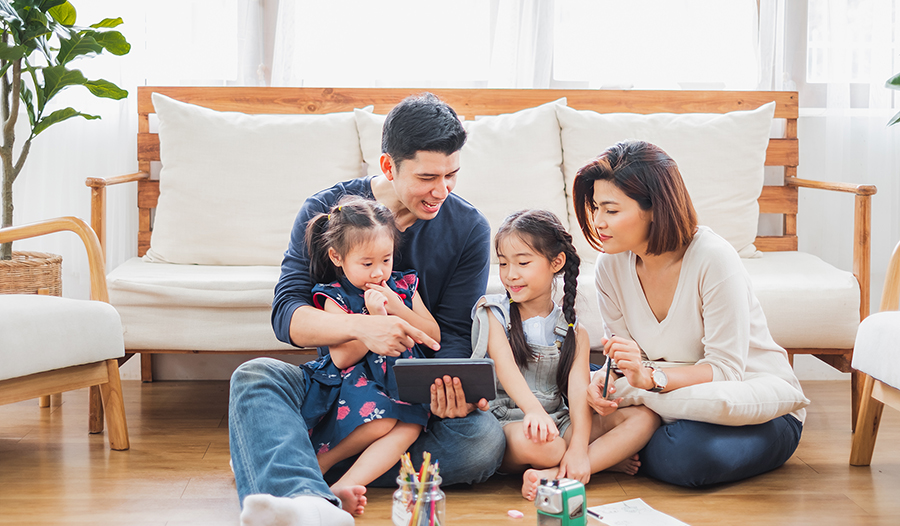 The average teenager spends approximately 70% of their time looking at some form of a digital screen. Children, especially during their teenage years, spend a large amount of their time connecting with friends through social media. But longer amounts of screen time can lead to negative mental and physical health outcomes.
With many countries considering online distance learning, children and adolescents will have even more exposure to digital screens. Below are tips on how to optimize online distance learning for your child or teenager while addressing possible negative consequences.
‌‌‌‌The Downsides of Too Much Screen Time
1. Increased Depression and Anxiety
Studies have shown a correlation between the amount of time spent on social media and increased rates of depression and anxiety.
2. Tech Neck
With more time spent on digital handheld content, children and adults are putting added stress on their neck, leading to "Tech Neck" or "forward head posture."
3. Headaches
With an increase in the amount of time spent on screen, children's eyes will also likely experience more discomfort, fatigue, and dryness, which may even trigger headaches.
4. Eye Strain
Increased screen time has been correlated with more eye strain or Computer Vision Syndrome (CVS).
‌‌‌‌4 Ways to Manage Mental Health with More Screen Time
As with many unforeseen changes, children may experience some anxiety due to uncertainties, particularly when it comes to online learning; this is a time when children are learning about social relationships, developing a sense of self and their own identity.
Thus, it's good to have an organized plan on how to approach distance learning.
Set Boundaries

:

Limit your child's cell phone and tablet use while they attend online classes. This will limit distractions and allow them to focus on one task at a time and avoid feeling overwhelmed or more confused.

Create a Space for Learning:

Just as adults need a space to work, children also need a space to study. Try to create a specific space that they use to attend online classes; ensure this space is quiet and that they have an ergonomic set-up to prevent neck pain.

Remember Recess:

Remember that children need breaks. This not only helps their mind to refocus on the task at hand, but it also allows for the eyes to refocus.

Keep It Old School:

Print assignments, if possible, and have your child work on them with a pen and paper. According to research published by the Journal of the American Medical Association Pediatrics, reading hard copies of books has also been shown to be better for the child's brain development than reading tablets.
‌‌‌‌Prioritize Comfort to Avoid Tech Neck
Online distance learning requires staring at a computer screen for prolonged periods of time. Comfort is paramount to be fully attentive when attending classes online. With increased exposure to digital media, children are now experiencing increased neck pain due to Tech Neck.
The head weighs about 5 kilograms, and with every angle of flexion, the weight of the head increases, reaching a maximum of more than three times the normal weight. Holding the head in a flexed position for long periods of time will lead to posture changes and chronic neck pain.
With a forward-leaning head, while testing, studying, surfing the web, and playing video games, children's shoulders may round while the head hunches over, making it more difficult to expand the rib cage to take deep breaths. This can be triggering to children who have trouble regulating their mood because they are unable to take full, relaxing deep breaths.
Therefore, ensure that the top of the computer screen is at the child's eye level, and have them sit up straight on the chair with their bottom all the way at the back of the chair, stretch during breaks, and avoid prolonged periods of time looking down at phones and tablets.
‌‌‌‌Ensure Proper Eye Health
Neck pain is not an isolated issue when it comes to online distance learning. Neck pain is also correlated to increased eye strain, which leads to children flexing their necks more to try to read things on the screen, and this can lead to headaches, especially if your child suffers from migraines.
Computer vision syndrome (CVS) is related to excessive time spent in front of digital screens, and children experience the same symptoms that adults experience, including eye discomfort, fatigue, headaches, and dry eyes.
Remember, children and adolescents do not know they could be developing serious long-term damage because the short-term effects are not as notable. A diet rich in antioxidants supplemented with vitamins C, E, and zinc may help reduce the risk of certain eye conditions, including CVS.
‌‌‌‌What to Do about Headaches
If staring at a computer screen all day is leading to headaches, particularly migraine headaches, there are some natural ways to help address this. A double-blind randomized clinical study found that ginger has been shown to have a better effect than sumatriptan, a medication for migraines. Another natural supplement that has shown to be effective for migraine headaches is turmeric. The latter two spices are great alternatives that may be used to liven up a healthy diet or may be consumed in a supplement in powder, tea, or extract form.
‌‌‌‌3 Supplements to Consider When Spending More Time Indoors
As your child transitions to online learning, a healthy diet filled with antioxidants will give them the fuel they need to succeed. Talk to your pediatrician if you are considering supplementing their diet, especially if your child or teenager is a picky eater.
1. Magnesium
Magnesium, which is found in leafy greens, avocados, nuts, and grains, may help with relaxation and relieving some stress and anxiety, thereby improving overall mood. The formulation of magnesium citrate in many tablets and powders may also help if your child has constipation from sitting for much of the day.
2. Vitamin B6
Vitamin B6 and folate are other vitamins that may also help with mood, and skin, hair, and eye health. They are important vitamins that help the body convert food into glucose. Glucose is very important especially when it comes to learning since it's the brain's main source of energy. Supplementing these vitamins may be beneficial because they are water-soluble and the body will not store them.
Children's multivitamins have plenty of B vitamins in them, so taking one of these daily may support your child's general physical and mental functioning.
3. Vitamin D
Due to online distance learning, children are missing the opportunity to play outdoors and have exposure to natural sunlight. This may lead to a deficiency in Vitamin D and calcium, which are important for healthy bone development. Vitamin D deficiency has also been associated with higher rates of depression and anxiety.
It's important to remember to discuss with your pediatrician any time you consider starting your child on supplements as each supplement has different recommended daily intake values and could interfere with any prescription medications your child may already be taking.
Unexpected changes can be challenging for any child or teenager. But having a plan that's adaptable, flexible, and consistent with your family values can help children be successful with online distance learning while also balancing their screen time. The American Academy of Pediatrics has created a template of a Family Media Use Plan that your family can adapt to your values and parenting style to achieve your desired goals. Most importantly, if you are going to start your child on any dietary supplement mentioned in this article, remember to check with your family's pediatrician.
Finally, socialization is a critical part of childhood that may be affected by online distance learning requirements; therefore, working with your child to identify different ways to have social contact is as important as their educational learning and maintaining their physical health.
References:
The American Academy of Pediatrics. AAP: Finding Ways To Keep Children Occupied During These Challenging Times.; 2020. https://services.aap.org/en/news-room/news-releases/aap/2020/aap-finding-ways-to-keep-children-occupied-during-these-challenging-times/. Accessed July 19, 2020.

Bulboacă, AE, Bolboacă, SD, Stănescu, IC, Sfrângeu, CA, Bulboacă AC. Preemptive Analgesic and Antioxidative Effect of Curcumin for Experimental Migraine. Biomed Res Int. Published online October 24, 2017. doi:10.1155/2017/4754701

Chassiakos, YR, Radesky, J, Christakis, C, Moreno, MA, Cross. C. Children and Adolescents on Digital Media. Pediatrics. 2016;138(5):e20162593. doi:10.1542/peds.2016-2593

Multimedia Encyclopedia - Penn State Hershey Medical Center - Vitamin B6. Penn State Hershey Medical Center. http://pennstatehershey.adam.com/content.aspx?productid=117&pid=1&gid=002402. Published 2019. Accessed July 19, 2020.

Fares J, Fares Y, Fares M. Musculoskeletal neck pain in children and adolescents: Risk factors and complications. Surg Neurol Int. 2017;8(1):72. doi:10.4103/sni.sni_445_16

Family Media Use Plan. HealthyChildren.org. https://www.healthychildren.org/English/media/Pages/default.aspx. Published 2020. Accessed July 19, 2020.

Hill DL. Social Media: Anticipatory Guidance. Pediatr Rev. 2020;41(3):112-119. doi:10.1542/pir.2018-0236

American Academy of Pediatrics. https://www.aap.org/en-us/Documents/soim_presentation_pedssupplements.pdf. Published 2020. Accessed July 19, 2020.

Kozeis N. Impact of computer use on children's vision. Hippokratia. 2009;13(4):230-231.

Lin LY, Sidani JE, Shensa A, et al. Association between social media use and depression among U.S. young adults. Depress Anxiety. 2016;33(4):323-331. doi:10.1002/da.22466

Maghbooli M, Golipour F, Moghimi Esfandabadi A, Yousefi M. Comparison between the efficacy of ginger and sumatriptan in the ablative treatment of the common migraine. Phytother Res. 2014;28(3):412-415. doi:10.1002/ptr.4996

Magnesium Citrate | Michigan Medicine. Uofmhealth.org. https://www.uofmhealth.org/health-library/d01008a1. Published 2020. Accessed July 18, 2020.

Munzer TG, Miller AL, Weeks HM, Kaciroti N, Radesky J. Parent-Toddler Social Reciprocity During Reading From Electronic Tablets vs Print Books [published online ahead of print, 2019 Sep 30]. JAMA Pediatr. 2019;173(11):1076-1083. doi:10.1001/jamapediatrics.2019.3480